Past Fundraisers
Powdered milk to Cuba. Jan 2022
WE MADE IT! WE REACHED OUR GOAL!
We brought 16,000 pounds of powdered milk that we're delivering to pediatric hospitals throughout the country with the help of the Martin Luther King Center. This was only possible through your generous donation that will help Cuban families during a difficult time in the country.
Children, pregnant women, the elderly and people with medical needs normally receive free powdered milk, but the pandemic and Trump sanctions disrupted food supplies, leading to a shortage.  Due to the reluctance of U.S. companies and banks to deal with Cuba for fear of running afoul of U.S. sanctions, Cuba buys imported milk—at an inflated cost—from places as far as New Zealand and Uruguay.
The funds raised for the milk and the flight to deliver it came from an outpouring of individual donations from people across the United States, including many Cuban Americans. It is an expression of the growing rejection among the U.S. public of their government's economic policies aimed to strangle the Cuban economy. 
This builds upon previous fundraising efforts to help the Cuban people, including a shipment of 18,000 pounds of food we sent in November and the 600,000 syringes we sent last summer. We'll continue working with our partners at Puentes de Amor, The People's Forum and thousands of individuals throughout the U.S. who want to end the Trump sanctions and lift the cruel blockade against Cuba. 
Read Medea's blog about the delivery of powdered milk to Cuba!
Now we have a chance to send powdered milk to ALL of Cuba's 22 pediatric hospitals, providing one glass of milk a day to all these children for 3 months!!! Want to help? Click here!
On November 5, 2021, the organizations Puentes de Amor, The People's Forum and CODEPINK are sending a cargo plane loaded with 18,000 pounds of canned tuna and pasta from Miami to Cuba. Representatives of the organizations are traveling to Cuba with the shipment. The aid will be received by the Martin Luther King Center in Havana and will be distributed to Cuba's eastern provinces.
This Food for Cuba campaign builds on the tremendous success of the Syringes for Cuba campaign, through which a coalition of U.S. groups raised over $500,000 to purchase 6 million syringes for Cuba's COVID-19 vaccination drive. It is an expression of the growing rejection among the US public of the economic blockade and policies aimed to economically punish the Cuban people.
The November 5 food donation will be followed up with more goods, including powdered milk and vegetable oil, that will be sent separately. The funds raised for the food came from an outpouring of individual donations from people across the United States, including many Cuban Americans. 
"One more time, Cuban Americans show their solidarity with their brothers and sisters on the Island," said Carlos Lazo of Puentes de Amor. "With this gesture, they express their desire to build bridges of love between the people of Cuba and the USA."
The donations are a response to the dire economic situation in Cuba, which is largely a result of the COVID-induced shutdown of the tourist industry and a tightening of the embargo under Trump. Reversing the gains made by the Obama-Biden administration in normalizing relations with Cuba, Trump added over 200 restrictive measures, including limiting remittances Cuban Americans can send to their families, stopping U.S. flights to every city but Havana, prohibiting cruise ships from docking in Cuban ports, and adding Cuba to the list of state sponsors of terrorism. Despite candidate Joe Biden's pledge to "promptly reverse the failed Trump policies that have inflicted harm on the Cuban people and done nothing to advance democracy and human rights," President Biden has continued Trump's policy of maximum pressure and promoting "regime change."
"It is tragic and infuriating to see how President Biden's policies are hurting millions of Cubans and exacerbating tensions on the island, especially at a time when the country has been battered by the COVID-19 pandemic," said CODEPINK co founder Medea Benjamin. "Our donation is a sign that many people in the United States reject these aggressive actions and instead want to extend a helping hand to our neighbors."
"Our donations in no way compensate for the harm caused by the U.S. blockade," said Manolo de los Santos, executive director of The People's Forum. "But they show our desire to stop our government from trying to strangle the Cuban economy and make people's lives miserable. It shows our desire to let the Cuban people determine their own future, free from U.S. interference." The groups sending the aid are also pressuring the administration and Congress to lift the blockade.
Syringes to Cuba. July, 2021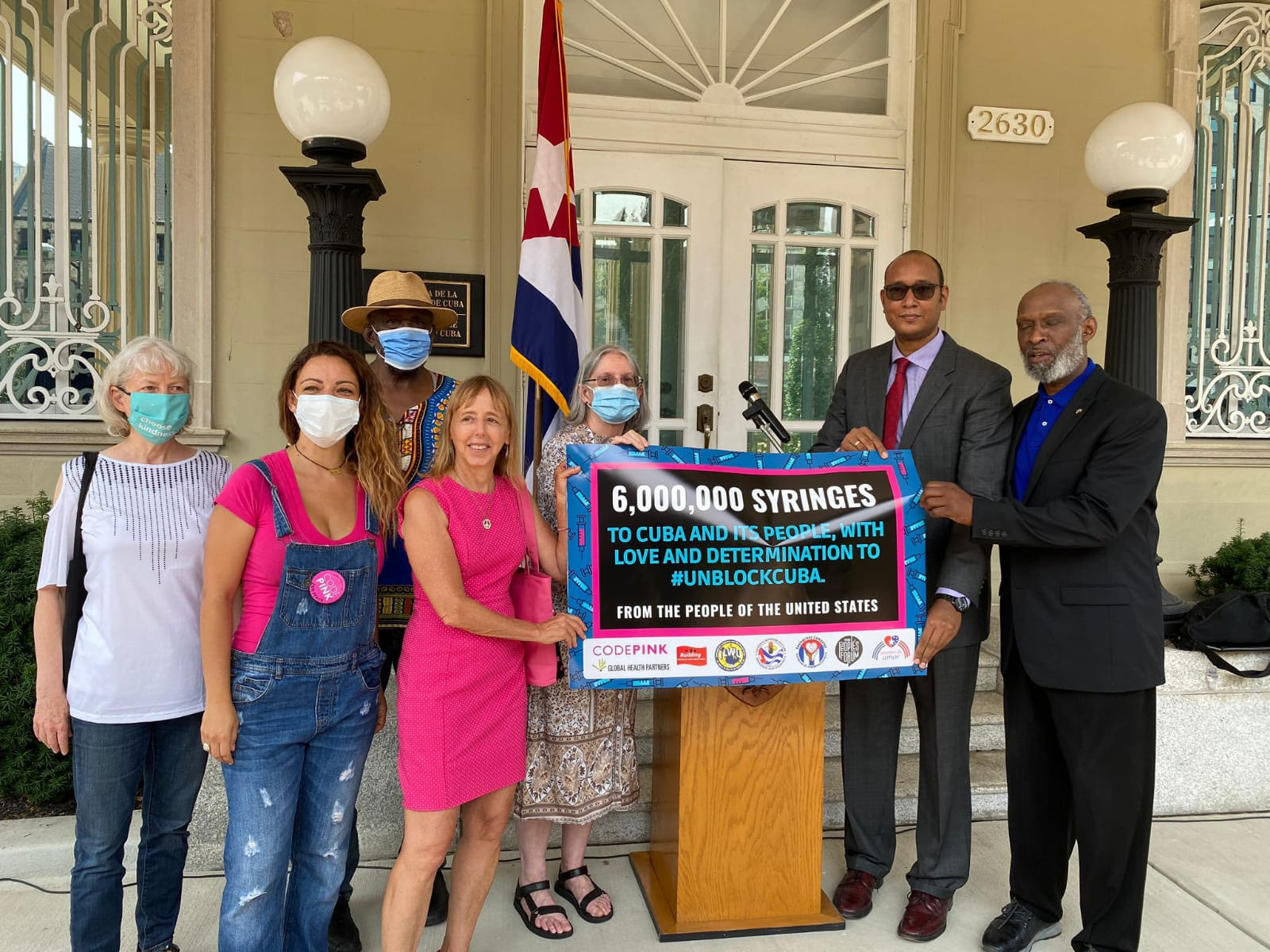 Representatives of the syringes for Cuba campaign present a certificate to Cuban diplomats in Washington D.C.

On July 2021 we delivered 6 million syringes to Cuba! This was made possible by your generous contribution that challenged an illegal and cruel blockade of the Cuban people. Here's a photo of the shipment:
Thousands of Americans have shown their concern for the wellbeing of the Cuban people by donating over $500,000 to send six million syringes to Cuba for their COVID-19 vaccination campaign. The first shipment of two million syringes left the United States and arrived at the Cuban port of Mariel on Saturday, July 17. 
The purchase and shipment was organized by Global Health Partners, a humanitarian organization that has been sending medicines and medical supplies to Cuba for 27 years. Among the groups that raised funds are the Saving Lives Campaign (a coalition of dozens of organizations opposed to the embargo), CODEPINK, The People's Forum, the International Longshore and Warehouse Union (ILWU), Democratic Socialists of America (DSA) and two Cuban American groups—the No Embargo Cuba Movement and Puentes de Amor.
"We are delighted that so many Cuban Americans donated to this campaign," said Carlos Lazo of Puentes de Amor. "They understand how important it is to show love for the Cuban people in their time of need."
"While the pandemic has left people around the world crying out for cooperation and solidarity, the Biden Administration has responded to the hardships in Cuba by doubling down on Trump's crippling sanctions," said CODEPINK cofounder Medea Benjamin, author of several books on Cuba. "But we are proud that, unlike our government, the American people have responded with generosity and compassion by donating funds to buy millions of syringes."
At the press conference, the groups will also announce that they will begin to raise funds for medicines and medical supplies, including antibiotics, analgesics, contraceptives, vitamins and medicines for people with hypertension, cancer and diabetes.
BACKGROUND:
Thanks to the island's well-established biomedical industry, Cuba has developed its own COVID-19 vaccine and has already administered over 8 million doses. But due to the U.S. blockade of Cuba and the economic impact of COVID-19, including the shutdown of the island's billion-dollar tourist industry, the Cuban government has been unable to purchase the 30 million syringes it needs to vaccinate its people. Global Health Partners put out an urgent call for funds and groups all over the country responded. 
Raising the funds turned out to be the easy part; buying and shipping the syringes became a nightmare. Technically, medical supplies are exempt from U.S. sanctions, but Global Health Partners still had to obtain a licence from the U.S. Commerce Department, which was a long and cumbersome process. Adding to the difficulties, the global demand for syringes outstrips supply, so major manufacturers didn't want to be bothered navigating the banking and licensing issues related to Cuba sales. Global Health Partners spent months trying to find companies willing to sell to Cuba and a shipping company willing to deliver the syringes. 
Now that the first shipment has left U.S. shores, Bob Schwartz, Executive Director of Global Health Partners, is elated. "When we first started this campaign in May, we had a goal of raising $100,000 to send about 2 million syringes to Cuba. But the response to our call has been enthusiastic and overwhelming," he said. "We've already raised more than $500,000 to purchase 6 million syringes, which is a great way to support Cuba's very ambitious campaign to vaccinate the entire population before the end of the year. We thank the dozens of organizations and thousands of generous donors who helped save Cuban lives and show friendship with our island neighbors."