February 23- March 3, 2019 
Concerned that the US administration is making a case for war with Iran, a coalition of peace groups, organized by www.codepink.org, is putting together an historic Peace Delegation to Iran. We hope our delegation can have a significant impact in helping move our two nations from a place of hostility and military threats to a place of mutual respect and peace with one another. 
Cost: $1500 per person. Includes hotels, programming, in-country transportation, and food.  Booking Deposit: $200. Covers visa and handling fees. This deposit is non-refundable if you cancel, but is refundable if your visa is denied. Click here to pay your $200 non-refundable deposit before our November 15th deadline!
Visa Request Form: Please complete these visa request forms when submitting your deposit. 
Contact: Lily ([email protected])
---
FAQs 
Who is invited to apply?
The delegation is open to people from other countries but will be mostly Americans. (please note that we will only have English translation). We are seeking people who are connected to and active with a community at home, such as faith-based organizations,  universities,  peace/justice groups, as well as journalists, writers, artists and videographers. We encourage those who have avenues for disseminating information when they return home-- writing articles and op-eds, giving talks, influencing members of Congress or the administration, etc. Due to the large number of persons expected to apply to go on the delegation, the US organizers will select applicants, but the Iranian government will decide if applicants will get visas. 
How and when should we get there? 
You are responsible for booking and paying for your own airfare to and from Tehran. If you are coming from the United States, you should leave the US on Saturday, February 23 so you arrive in Tehran on late night February 24 or early morning February 25, and return home from Tehran on Sunday March 3. 
You can take whatever flight you want, but we will soon post some of the flights other people are taking if you want to join them. You should get changeable/ refundable tickets or use mileage in case the Iranian government does not issue you a visa, which has happened frequently in the past. 
What is the cost?
The total cost for hotels, programming, in-country transportation and food is $1,500. A $200 deposit is required by November 15. You can pay this online or make out a check to CODEPINK, marked Iran Trip in the memo, and send to CODEPINK Iran, 2017 Linden Ave, Venice, CA 90291. This will be used to pay for the visa and handling fees. This deposit is non-refundable if you cancel, but is refundable if your visa is denied. You must bring the remainder of the fee, $1,300 US dollars, with you in cash to give to the trip leaders as soon as you get to the hotel in Tehran. 
What does the fee include?
Assistance with acquiring visas
Accommodations 
Program activities and entrance fees
Three meals per day
In-country transportation 
English-speaking guides 
Price is based on double room accommodations. Specific roommates cannot be guaranteed though we do our best to accommodate your request.
A single room can be requested at an additional cost of $200.
What does the visa process entail? 
It is difficult to get visas for Iran, and the Iranian government process is time-consuming. That is why your application and $200 deposit must be received by November 15. For purposes of processing a request for your Iranian Visa in a timely manner, the registration, along with your deposit, is due November 15. The earlier you get us your information, the most likely you are to get the visas. 

In order to come on this trip you must fill out and submit these forms.
You must upload a passport copy and a photo for your visa and send to CODEPINK. Your passport copy and photo are vital parts of the visa application process. The acceptance of your photos is at the discretion of the Iranian consulate. Please make sure you answer all the questions — if you do not, your application may not be accepted by the Iranian government.
Passport Copy Requirements
Follow this guide to ensure that you have a suitable digital image.
Must be in color
In JPEG file format
Equal to or less than 500 kB (kilobytes) in file size (less than 10 kB is not accepted)
Only the first page
Properly exposed (not too dark or too light)
Be sized 800 X 600 pixels
Clear and all characters readable
Must have 6 months validity before the expiration of the passport.
Photo Requirements
Visa photo requirements are just like a passport photo. To ensure that your visa photo meets all the requirements you can go to a professional visa photo service. Or follow this guide to ensure that you have a suitable image.
Must be in color
In JPEG file format
Equal to or less than 500 kB (kilobytes) in file size (less than 10 kB is not accepted)
In a rectangular aspect ratio and be sized 400 X 600 pixels
80% of the photo must be of applicant's face with a full-face view directly at the camera and a neutral facial expression.
Optional for women to wear a headscarf in their visa photo.  
What will the delegation focus on?
This Peace Delegation will give participants a unique chance to understand this much-maligned nation and put a human face on this political struggle. It will help facilitate understanding and respect between our people—the building blocks necessary for true international diplomacy and peace between our countries.
Program highlights are subject to change, but  will hopefully include:
Meetings in Tehran:
Meet with representatives of the Foreign Ministry and Parliament
Visit the Museum of Peace and meet with its members
Visit with university professors and students to learn about their hopes and dreams
Interact with filmmakers, artists, poets and other cultural workers
Learn about the effect of US and EU sanctions on Iran.
Explore bustling Tajrish and Grand bazaars and learn about the important role they play in Iranian commerce and culture
Visit beautiful parks and mosques decorated with intricate and colorful mosaic designs 
Tehran's famous Sa'dabad Palace (summer residence of the Qajar Dynasty) and Golestan Palace. 
Learn about Islam as practiced in Iran. Meet with religious leaders and scholars
Outside Tehran: Travel to the beautiful cities of Isfahan and Shiraz
Can I stay longer? 
You may stay one more week with your visa, but your stay must be arranged through an Iranian travel agency that we can recommend.  Under the terms of your visa, you can not stay on your own without the services of a travel agency. The expenses for any time after the delegation are your sole responsibility. 

What airlines fly to Tehran?

Lufthansa, Austrian Airlines, Turkish Airlines, Qatar Airways, and Emirates fly into Tehran.

What if I have Israeli stamps in my passport? 

Iran refuses entry to those who have their passports containing an Israeli visa or stamp. It is recommended that you obtain a new passport if you would like to attend the delegation. 


Who will we be meeting in Iran?

We have secured meetings with professors and students at Tehran University who are studying American Studies. Meetings with artists, filmmakers, women activists, veterans, and members of the Peace Museum. You will also have the opportunity to visit synagogues, churches, mosques, and Zoroastrian temples. We are in the process of getting permission from Iran to have these meetings.

If there are places and people you would like to meet in Iran, please give Leila a list of those people and places. She can't promise anything, but she can prepare a list of individual names and organizations to ask permission for.


Will there be transportation to and from the airport?
Our hosts have provided buses available to pick you up from the hotel and back.

Should we buy our flights before our visa is issued?
We understand that the longer you wait to purchase tickets the more expensive flights can get. If you can, please wait until visas are approved before purchasing flights.However, you like to purchase flights we recommend for you to use mileage, purchase a refundable ticket, or see if you can get credit.
Is there a preferred form of currency we should bring?
You must have cash with you. 100 dollar bills are purchased better than smaller bills.


Will there be any problems coming back into the U.S?
You should not have any problems coming back into the U.S. The worst that can happen is that you can get secondary or tertiary screening where they examine all your things at US airports.

Can we go to Palestine with an Iranian visa in our passports?
Yes, you will still be able to go to Palestine with an Iranian visa in your passport.

Can we bring our laptops to Iran?
Yes, you can bring your laptop. They will not search the content on your computer.
Will we be able to schedule meetings to meet people that we know in Iran?
People will definitely be able to meet you at the hotel. When we are there in Iran, it is possible we can work around things on the ground to see if you can meet people.

Are there any restrictions on bringing medication?
There are no restrictions in bringing any prescription medication, however we advise against bringing medical marijuana.
How can we communicate with people in the U.S.?
On previous trips, we have purchased a cheap phone where everyone can use. We highly recommend that you download Whatsapp, it is an app that you can use to text or call those in the U.S.  
Do we need a power adapter for Iran?

Yes, in Iran the power plugs and sockets are of Type C and Type F. See below for picture examples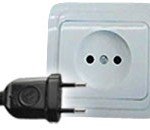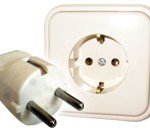 Type C                       Type F
What is the dress code in Iran?

For Women: You must always have wear a tunic or a long coat (long enough to cover your butt) over your regular clothes and are required to cover your heads with a scarf when you are out in public. You do not need to have every single strand of your hair covered. There are no limitations to colors.

**IMPORTANT** Please make sure you have your scarf and long shirt/tunic/coat with you in your handbag and not in your suitcase on the plane. You will need to wear the head scarf and be covered before you step off the airplane into the airport in Iran.

For Men: You should wear long pants and either long or short sleeved shirts. NO shorts

For everyone: You will not need to bring any dress pants or clothing for the meetings 
What hotel will we be staying at in Tehran?

We will be staying at Esteghlal hotel. 
Can I bring my camera?

Yes, but please make sure to ask permission before you taking pictures or videos of people.
What is the weather like?

The weather will be in the 50s when we are in Iran. Please check this website for updates on weather.  
Some cultural delicacies to know:

a. Iranians, are so proud of their culture and what their participation in the world's civilization. It is not a bad idea to mention that, particularly in your informal meetings. I have a couple of suggestions such as:

Iran zibast (iran is beautiful)
Iran ro doost daram ( I like/love Iran)
Tarikh e- shoma khili ghavi e (your history is grand)
b. Handshake: Based on Islamic law which does not allow strangers to have any bodily contacts, religious people do not shake hands with others from the opposite sex.
In your meetings with officials, if they are your opposite sex, please do not offer shaking hand.

With other people you meet, in the streets, stores, any public area, etc. I suggest you wait for them to initiate shaking hand.
c. Political conversations: Iranians are often are savvy in political conversations. Do not hesitate to get engage in any political conversations with anyone either in your formal meetings and/or otherwise.
FAQ Updates as of 2/18/2019

How are we going to find each other when we get off?

Our hosts will be at the airport to pick you up with a CODEPINK sign. If you have an earlier arrival time than other flights our hosts will take you to the hotel so you won't have to wait too long at the airport. Lily will also send you who is on your flight so you can reach out to them. 

How much freedom do we have to speak freely in Iran?

Be comfortable to talk to people as most people will be eager to speak to you. Just be cautious and make sure when speaking to people that they do not have another agenda. 

Can we use social media such as Facebook or Twitter?
Social media such as Facebook and Twitter are heavily filtered in Iran. However, almost everyone in Iran has access to these social media sites through VPNs. Once you are in country we will show you how to use these applications.

If you have a smart phone we recommend downloading free VPN app Hexatech that will let you have access to filtered social media sites.

Do we need to bring money to buy anything?

The only expenses you will have in Iran is whatever you want to do personally. 

Where do we exchange our money?

It does not matter if you have US dollars or Euros you will need to exchange them to the Iranian Rial either at the airport or at the hotel. 

What is the current exchange rate?

1 USD = 42,092 IRR. 

Video explaining Iranian currency

Should we pay the tour group in US dollars?

Yes, all prices have been calculated in US dollars. You will need to pay the group in cash.

What kind of small gifts should we bring?

T-shirts, pins, interesting books, chocolates, any souvenir from your city or state.

Are there any restrictions on books to bring to Iran?

Do not bring the Bible as a gift with you as it will come across as a missionary trip to Iran. The Iranian government is also not interested in George Soros.

Do we need to bring our own towels and toilet paper?

You will have both towels and toilet paper. Hotels will have basic toiletries available to you, but if there specific items you need like conditioner, tooth paste, or lotions etc. please bring them with you.